< valign="top".>

-small-347x264-fixed.jpg" alt="" width="350" height="270" align="center" />


Janie Sherman at a booksigning for
"Augusta County, Virginia, Earliest Will Index, 1754 to Post 1900"
---
Janie Sherman, Professional Genealogist, is a graduate of East Tennessee State University, with a B.S. Degree in Secondary Education (majoring in English and Sociology); and in 1992 completed a four-year study course, Theological Education for Ministry from the University of the South.
A 41-year resident of Staunton, Janie was founder and Director of Trinity Episcopal Pre-school; followed by 17 years as Executive Director of the Mental Health Association of Augusta, where she was proactive in the merger of two groups, and was presented (twice) the "Distinguished Service Award," the highest Mental Health Association Staff Award in Virginia. She is a Charter Member and Past-President of the Commonwealth Center for Children and Adolescents (CCCA) Advisory Council, (a Virginia hospital for emotionally disturbed children, formerly DeJarnette Center) and a past board member of Western State Hospital's Advisory Council.
During the past 25 years, Janie has been a genealogist and for 15 years, from 1995-2010, she was accredited by the Board of Certified Genealogists as a Certified Genealogist (CG). While she still takes on a large number of clients, she has tried to semi-retired in order to conduct more of her own genealogy. While an advocate for knowing one's own American genealogical heritage, she enjoys her discovered relationships to such Americans as: Dolley Madison, Thomas Jefferson, George Washington and Edith Bolling Galt (2nd wife of Woodrow Wilson), as well as to the infamous Jesse James! She has prepared 100s of DAR/SAR applications, was founder of a DAR chapter as well as Organizing Governor of the Lady Rebecca Staunton Company of the Jamestowne Society and is a member of more than 40 hereditary societies, and most recently involved in European genealogy.
As nearly ALL of her ancestors were Virginians, Janie discovered a NEW Virginia Gateway Ancestor, Robert Lawrance of Isle of Wight, VA, son of Sir John Lawrence, a goldsmith of England. She has since discovered her direct ancestors to Charlemagne, through William the Conqueror; to Plantagenet Kings and the Merovingian Dynasty; and has proven her 27th Great Grandmother, Saint Margaret of Scotland (Queen of Scotland and wife of King Malcolm) through daughter, Matilda, who married King Henry I of England.
In 2008 Janie published a book, Augusta County, VA, Earliest Will Index, 1745-p1900, and previously has had several articles published in the: Shenandoah Valley Magazine (1986) and American Spirit Magazine (2004). Presently, she is Governor General of First Settlers of the Shenandoah Valley (http://www.firstsettlersshenandoahvalley.com) and Organizing Governor of the Lady Rebecca Staunton Company of the Jamestowne Society (http://jamestowne.org).
Janie has two children and seven grandchildren. A great animal lover, as she has raised Yorkies and had four champion Yorkshire Terriers under her kennel name, BLUgenes Yorkshire Terriers. She also loves Connemara Hunters (horses), to play Bridge, knit, quilt, travel, and can be found often in a library or walking a graveyard!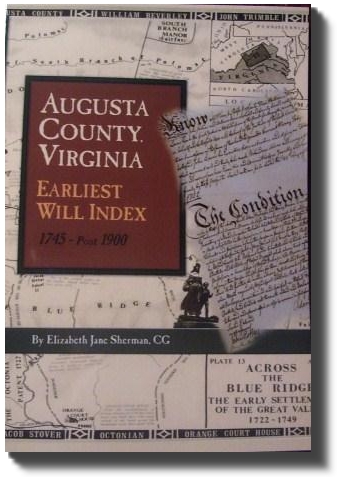 Janie Sherman is a member of the following societies:
Professional Societies
Association of Professional Genealogists
Augusta County Genealogical Society
Augusta County Historical Society
Virginia Genealogical Society
New England Historic Genealogical Society
Genealogical Society of Pennsylvania
Founders Fellowship



European Ancestor Societies



Order of the Crown of Charlemagne in the USA
Order of the Merovingian Dynasty
Descendants of the Knights of the Bath
National Guild of St. Margaret of Scotland
Military Order of the Crusades
Baronial Order of Magna Charta
Order of Alba



American Ancestor Societies



Jamestowne Society, (Organizing Governor)
Dames of Colonial Cavaliers, 1640-1660
Colonial Dames of the XVII Century
National Society Southern Dames of America
National Society Dames of Court of Honor
Order of Descendants of Colonial Cavaliers
Daughters of American Colonists
National Society Sons & Daughters of the Pilgrims
National Society Descendants of Early Quakers
The National Huguenot Society
Hereditary Order of the Families of the Presidents and First Ladies of America
The Registry of Infamous & Famous Relatives in American Families, RIFRAF



War Societies



Continental Society Daughters of Indian Wars
Daughters of the American Revolution, (Organizing Regent)
U.S. Daughters of War of 1812, (Chapter President)
United Daughters of the Confederacy, (Chapter President)
Daughters of Union Veterans of the Civil War 1861-1865
National Order of the Blue and Gray



Occupational Societies



Descendants of Colonial Physicians and Chirurgeons
Sons and Daus of the Colonial & Antebellum Bench & Bar
Guild of Colonial Artisans and Tradesmen, 1607-1783
Natl Society Sons/Daus of Antebellum Planters, 1607-1860
Descendants of Sheriffs & Constables of Colonial & Antebellum America
Flagon & Trencher Society:Descs/Colonial Tavern Keepers



Family & State Societies



First Families of Augusta County, (Founder)
First Families of Tennessee
America's First Families
First Settlers of the Shenandoah Valley, (Founder & Governor General)
The Bates Family of Old Virginia, (Librarian)
The Lyon Families of America, (Copyeditor)
Wingfield Family Society, (Newsletter Editor)
Society of Indiana Pioneers